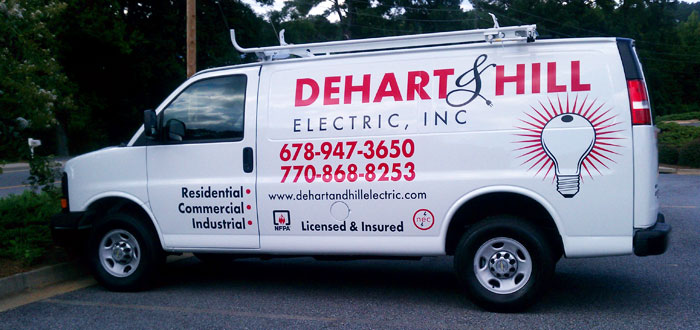 Call today to schedule a free consultation to solve your electrical issues
If you are in need of electrical services in the Cumming, Georgia area and want to work with a team of professional electricians who are experienced in Residential, Commercial and Industrial electrical work, make sure to call the professionals at DeHart and Hill Electric, Inc. At DeHart and Hill Electric we are committed to providing first rate customer service and only the safest and highest quality electrical repair and installation services to the Cumming, Georgia marketplace.
The professional electricians at DeHart and Hill Electric are experienced in all types of electrical work. No electrical job is too big or too small for our professionals. Call DeHart and Hill in Cumming if you are in need of electrical work on your boat dock or installation of power to your dock, new power service to your home or business, or current service upgrades in Cumming. We offer Generator repair and service for residential, commercial and industrial applications. Our electricians are experienced in surge suppression installations to protect your home or business. DeHart and Hill Electric located in Cumming regularly installs temporary power poles for use during residential, commercial and industrial building projects. Our certified employees will give you peace of mind when working on your electrical service work, electrical needs during remodeling, help with locating underground electrical wiring,  or troubleshooting an electric problem at your home or office.
We are the professionals you will call back whenever you have an upgrade or service you need.  When you work with our experienced, professional team of electricians in Cumming, GA you will be surprised by how smoothly the installation of the electrical goes on your new home. This also applies to a new business build. Our electricians are fully experienced at properly wiring your new residential, commercial or industrial property from the ground up. Not only do they do it right, they do it with energy efficiency and safety at the top of their list. Even if we servicing or repairing an existing electrical system, ask our experienced electricians about our green energy efficiency consultation to let you know how we can help your home or office operate at peak energy efficiency in Cumming.
Our Electrical Residential Services for the Cumming area include electrical services for residential construction and remodeling, surge suppression, new service, electrical circuit testing, service upgrade, panel replacements, lighting, lighting repair, new lighting, security lights, moon lights, trouble shooting, home inspectors, list and outdoor lighting. We also install generators, ceiling recessed lighting and ceiling fans, driveway and patio lights, circuits for computers, hot tubs, swimming pools and new kitchen equipment. We will come to your Cumming residence and give you a quote, so call us today.
Commercial Electrical Services in Cumming and the surrounding area include security lighting, electric for boat docks, panel and electrical repair for flickering lights, ripping breakers and bad panel boxes. Other services include commercial remodels, service upgrade, new service, apartment service, pole lights, panel replacements, going "green" energy replacement, lighting repair, new lighting, trouble shooting and more.
Industrial Electrical Services for Cumming include Electric Motors 1/2 hp up to 600 hp, Motor Controls, 12v to 600v, Single Phase to Three Phase, Belts and Y Systems, AC to DC, Lighting Upgrades, All Types of Conduit, All Types of Fittings & Boxes, Panel Upgrades, MCC Upgrades, Service Upgrades, Equipment Wiring, Line Change Overs, Weekend and Holiday Work, Alum PVC Coated Stainless Steel, Cable Trays, Wiring For Any Machinery & Equipment plus much more. Call us for any emergency 24/7, or schedule an appointment to find out more about our professional electric service.